Shiraz Hostels
Welcome to the most enchanting city in Iran, Shiraz, the city of orange blossoms and poesy. The fame of Shiraz lies in its vineyards, the magic touch of orange blossoms, its fragrant air and of course its lofty status as the center of Persian poetry. But all this comes second to the international reputation of its ancient historic sites especially that of Persepolis, the seat of mighty Persian kings and a UNESCO World Heritage Site. Being in Shiraz has many other merits though. The city boasts great accommodation options that would give you a more intimate perspective on the city and its wonderful people. Shiraz hotels are absolutely fantastic and will cater to every traveler's taste. But here we will be talking about the city's budget accommodations which are equally marvelous. Shiraz hostels are the most popular budget options and there are good reasons for that. First of all, they are peopled with tourists from all over the globe and as a result have an extraordinary international vibe. Then comes the traditional ambiance and vibrant atmosphere of Shiraz hostels which are matchless among other budget lodges. If you are after the cheapest lodges, Shiraz's guesthouses and also Shiraz's bed and breakfasts are your ideal choices. But if you are a nature lover and want to roam around the countryside, Shiraz's ecolodges are there to welcome you with their simple but authentic services. And it goes without saying that Shiraz's homestays are the best way for the more sociable among you who want to know the real people.
..................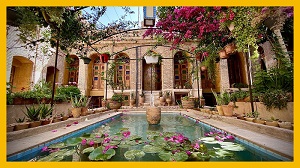 Offering a great central location, and a beautiful relaxing courtyard, Seven Hostel in Shiraz is one of the most budget and also most popular options in this city in Iran.
8/31/2022 9:22:30 AM
---
3 Comment(s)
Average Rating:
Comments and Reviews





CLAVIER on 4/2/2019
Hello I want to reserve in april but i want to know the localisation of the hotel in shiraz to know if it's near the city centre and things to visit thank you have a good day Nicole
---
Admin:
Please Specify
Dear CLAVIER
Inquiry Code: 12370
Unfortunately your message does not specify which hotel/hostel you are inquiring about. Would you please specify?
We also recommend you to refer to the following links to:
1. Book Your Imam Khomeini Airport Taxi
2. Book Your Iran Tour
3. Book Your Iran Bus Ticket
4. Book Your Iran Train Ticket
Regards,
SevenHostels Group





S on 12/17/2018
Where is your address in shiraz
---
Admin:
Thank You
Dear S
Comment Code: 9418
Salam!
Thank you very much for your interest in our services.The link below helps you to find Seven Hostel in Shira's address:

http://sevenhostels.com/addresses-and-directions

Kind Regards
Sevenhostels group
Sadykov on 9/28/2017
May i have one bed in your hotel 29-30 september at some $10-12 a night, please!
---
Admin:
Thank You
Dear Sadykov
Comment Code: 3411
Salam!
Thank you very much for contacting us.
Please make a reservation on the website and we will check the availability and get back to you.
Our prices are fixed and you can find more information on our website.

Kind Regards