What is a Hostel?
The question "What is a hostel?" is commonly asked in a country like Iran where the idea of starting a hostel is somehow new. So, it is essential to make sure people know exactly what a hostel is and what facilities a typical hostel offers. It commonly happens that some travelers choose to stay at a hostel, but then they feel disappointed with it only because they have no idea what they've opted for. Simply put, a hostel is meant to be a cheap accommodation facility for the travelers who do not have that much money to spend on expensive hotel rooms. Travelers like backpackers who have a long-term plan for traveling around the world and are therefore on a tight budget.
A Hostel or a Hotel?
What is important here is that being cheap does not necessarily mean hostels are some dirty, inconvenient places haunted by miserable bums in rags. On the contrary, not only are good hostels clean and well-equipped, but also they let you experience something very different which not even the best hotels can offer; hostels offer the opportunity of sharing a flat or a room with other travelers who come from different countries and cultural backgrounds. So, a hostel is the place for travelers to meet people who have the same interests and motives and make friends.
Common Facilities at a Hostel
Most hostels offer private bedrooms and dormitories or dorms. The guests accommodated in dorms usually get bunk beds and also lockers where they can keep their luggage safely. But the most essential facility at any proper hostel is a warm and international hang-out area where the travelers get together and exchange travelling tips, experiences, and also numbers. Here at SevenHostels Group, we're very proud to claim that our hostel in Tehran is one of the very few accommodation facilities in Iran that falls very neatly in the general category of a proper hostel.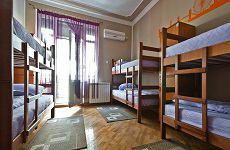 4/25/2017 10:56:44 AM
---
1 Comment(s)
Average Rating:
Comments and Reviews





rashedi on 3/2/2017
It's perfect.
---
Admin:
Thank You
Dear Vahid
Comment Code: 1030
Salam!
Thank you very much for your feedback. We really appreciate it.

Kind Regards