Iran's Climate and Common Weather Conditions are Diverse
Iran is a vast country with different types of climate and extreme variations of temperatures. In Iran you can find the hottest place in the world, but also mountains where the temperatures drop to minus 30 degrees Celsius. Depending on the region and the time of the year it can be hot, cold, dry or even wet. This makes the country ideal for producing grains and fruit. In winter you can go skiing in the north of Tehran, and a day later you can head south to Kashan and to experience the dry heat at Iran's beautiful deserts such as Maranjab Desert.
Weather In Different Cities in Iran
Iran is a four season country. The capital, Tehran, has a dry climate and in spring (March to June) the temperatures are pleasant. But as summer (July to September) comes, it gets hot and many people in Iran escape to the northern mountains, where it is much cooler. Winters (December to February) in Tehran are cold and sometimes it even snows in the city. The winter in Shiraz and Esfahan is mild, but in the summer time it gets really hot there with temperatures up to almost 40 degrees in August. Yazd, located in dessert, even reaches temperatures up to unbearable 45 degrees Celsius in the summer time.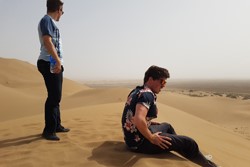 Ideal Time to Go Travelling in Iran to Enjoy the Best Weather
When it comes to travelling, Iran sees three seasons. The majority of backpackers will come in the peak season between March and May when temperatures are ideal for travelling all across Iran, as it is not too hot or too cold. The shoulder season goes from June to October. In this time temperatures increase all across the country, and it becomes almost too hot to travel in cities like Yazd. Comparably few tourists travel to Iran between November and February when temperatures start to drop again, unless they are going to stay at our Dizin hostel and ski at Dizin Ski Resort. The south is still warm and pleasant, but Tehran and the northern Iran becomes really cold. Make sure to bring warm clothes when you come in winter!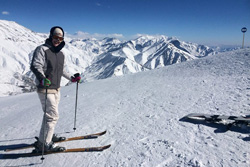 Pollution Is a the Main Problem With Iran's Weather
The air pollution in the capital Tehran has become a real problem. Particularly in fall and winter the smog is really bad and in these months the government might even close schools for a day or two, to protect the health of children. Everyday millions of cars expel a huge amount of smog, making the pollution worse and worse. Iran's cars run on low quality gas and cheap fuel, being far away from any international standards. And although Tehran has public parks, there are clearly not enough trees in this vast city to reduce the pollution.
1/14/2017 11:14:15 AM